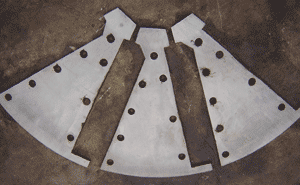 Carbide Plated Disc Wear Plates and Feedplates
Universal's carbide plated disc wear plates last 2 to 3 times longer than a wear plate made from abrasion-resistant (AR) steel plate. Our carbide plated disc wear plates are made from mild steel, with a high-temperature fuse-coated overlay of powders containing tungsten carbide particles. This carbide plating is extremely durable, and impact resistant. It holds up very well to debris impacts in the chipper spout.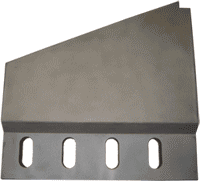 Carbide plating also increases the wearlife of feed plates and mouth wearplates. For additional savings, most feed plates can be rebuilt and re-coated with a second coat of carbide plating.