Planer-Matcher Parts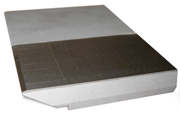 Universal's carbide planer-matcher parts last 4 to 8 times longer than a chromed part. Edges remain sharper longer, improving feed characteristics, while greatly reducing down-time for your planer.
Universal stocks carbide chipbreakers for select planers.
Don't throw away your old parts! Universal can rebuild and add carbide to your worn chipbreakers, bedplates, side guides, and nose guides.