Carbide Plating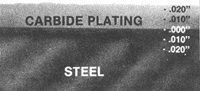 Universal's carbide plating is a heat-intensive powdered metal that bonds, or "fuses" directly into the steel surface to which it is applied. That's why tungsten carbide plating will not chip, flake, or spall out under heavy impact from tramp material. All of Universal's powders contain tungsten carbide granules.
In most abrasive-impact wear applications, carbide plating will last 2 to 4 times longer than abrasion-resistant (AR) plate.
Carbide plating can be applied in thickness ranging from .010" to .06" (0.3 to 1.5mm). It can also be applied to irregular shapes.
The wear area can be rebuilt and re-plated several times. The new plating will fuse into the old plating.
You can weld next to the carbide plating, or on top of it. The weld will not damage the plating, and the plating will not weaken the weld.
Carbide plating is not brittle. It can be straightened, rolled, or hammered. Temperature extremes will not affect it's performance.
Carbide plating is usually left in it's smooth, unground state. It can also be surface-ground to very close tolerances with Universal's special grinding processes.
Some Uses for Carbide Plating
Wood Chipper Components such as:

Horizontal and Bottom Anvils
Disc Wear Plates
Feed Plates
Fan Blades
Swing Hammers for Hogs
Punch-and-die Type Hog Hammers
Chip Slicer Components
Wood Planer Components