Grinding Services
Let us do your surface grinding!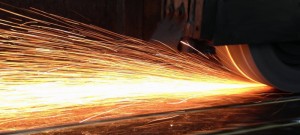 At Universal, we operate many grinders, ranging in size from an 18″ Blanchard vertical spindle rotary grinder, to a 120″ Mattison horizontal spindle reciprocating grinder. We do wet, abrasive grinding and diamond grinding.
It is often more cost-effective to group-grind parts on our magnetic chucks, instead of machining those surfaces individually, even if the material is soft carbon steel. Many materials are too hard to machine. We can grind those for you, too.
Customers often send Universal un-machined steel parts. We then grind one or two faces to provide  true flat surfaces, so the customer can then run all of his post-machining operations.